Group of Companies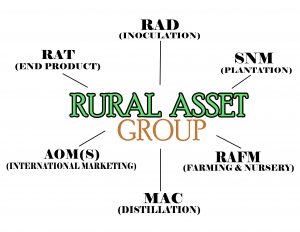 The Rural Asset Group
Mission
To be the Preferred Professionally Managed Company for all stakeholders in Agarwood industry
Vision
Adopt latest technological advancement to create values
Create a globally recognized ASEAN brand
Have financial returns and yet "greening" the earth
The Rural Asset Group is a boutique bio technology group of companies that seek out unique agricultural produces to create valuable Assets. Rural Asset Group has the expertise in the entire value chain from nursery to end products. The Core Competencies of Rural Asset Group is in the scientific approach and data centric management philosophy. To Rural Asset Group, each tree is an Asset.
Rural Asset Development Sdn Bhd (RAD) focus on developing biological tool that will stimulate the agricultural objects to produce the desired results.  Currently, RAD is already in the third generation of inoculant. New products not related to inoculant are also in the pipeline.
Rural Asset Farm Management Sdn Bhd (RAFM) is the specialist Plantation Management Company which manages all plantations belonging to Rural Asset Group as well as other plantations that assign the plantation management work to RAFM.  RAFM has nursery in Pahang, sells Agarwood seeds as well as provide inoculation and harvesting services.
Rural Asset Trading Sdn Bhd (RAT) converts produce from farms into high end retail products. Current products range include perfumery, incense, toiletries, decorative items and drinks. RAT constantly and proactively produces products that are of good qualities and fulfill the refine indulgence needs of the discerning few who appreciates the beauty of Agarwood
Asian Oudh Marketing Pte Ltd (AOM) is the international Sales and Marketing company dealing with perfume and essential oil. AOM will purchase essential oil from MAC as well as from anybody that has good quality oil from Asean countries
Mature Agarwood Capital Sdn Bhd (MAC) is the distillation company who produces agarwood essential oil for the Rural Asset Group as well as for others. MAC will purchase Agarwood for the production of essential oil from clients who have bought inoculant from RAD
SNM Agarwood Sdn Bhd (SNM) is a Agarwood plantation in Pahang with 100,000 trees of Agarwood being planted. It serves as the major supply of Agarwood trees for the Rural Asset Group
Certificates